It is an exciting time to be creating music on iOS. A variety of MIDI sequencer styles and approaches are available with lots of creative options including Fugue Machine which was inspired by composition techniques used in Baroque music and Serialism. You can step sequence, loop record in an AudioUnit, create Euclidean polyrhythms, make semi-repeating generative phrases and use probability-based pattern morphing with the apps below. This is a short list of sequencers currently in vogue.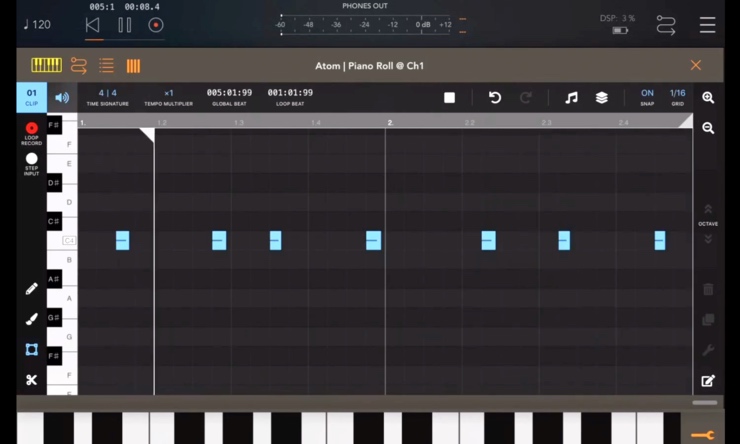 Atom by Victor Porof runs as a AUv3 and has a really friendly user interface. The original note position is shown while moving and quantizing notes and sequence tempo can be a fraction of the host tempo. Features include loop record, state saving, step input, extensive editing tools, non destructive quantize, dynamic stretching, advanced time signatures, advanced tempo settings, scales and visibility layers.
Autony from Pagefall is an unreliable sequence generator for iOS. A highly configurable, midi controllable, sequence generator with a built in note quantiser. Also checkout Cality for granular-like MIDI note generation from the same developer.
Riffer from Audiomodern is a creative MIDI sequencer that generates random patterns and melodies for you. You can choose scales, complexity, steps, start and end points, playback motion, set pitch, transpose, measures and many more.
Xequence 2 from Seven Systems is a comprehensive, fast & stable MIDI sequencer, editor, arranger & controller for iPhone & iPad. It is the perfect companion both for hardware and for AUM & AB3 to create a modular, "DAW-like" music production environment on iOS.
Fugue Machine by Alexandernaut is a tool inspired by composition techniques used in Baroque music and Serialism — e.g. Bach's canons and fugues, and Schoenberg's twelve-tone technique. Fugue Machine is the world's first multi-playhead piano roll.
Rozeta by Bram Bos is a collection of MIDI Audio Unit plugins that includes: Bassline: a monosequencer based on the popular Troublemaker sequencer, X0X: classic step sequencer, LFO: 3x MIDI LFO generator, Rhythm: the popular Ruismaker Euclidean sequencer, Particles: MIDI Particle Generator, Cells: Polyphonic Step Recorder, Collider: MIDI Hadron Collider, XY: configurable XY MIDI Control Pads and Arpeggio: adds an arpeggiator to any synth you own
StepPolyArp Unit by Laurent Colson is a real-time polyphonic and polyrhythmic MIDI step arpeggiator and step sequencer. It can be used as a standalone application or an Audio Unit MIDI effect plug-in. Presets can be synchronized to iCloud, "Slide Over" and "Split View" are supported on the iPad.
Xynthesizr by Yuri Turov is a streamlined yet capable 32-step matrix pattern sequencer/synthesizer with generative features for iPad and iPhone.
Create patterns and modify them in real time, or let Xynthesizr do it for you using its morphing algorithms. Change scale and key, or transpose within a scale on-the-fly. Tweak parameters of the internal synthesizer or output MIDI to your favorite apps and devices. Record and share your creations.
Quantum by Anthony Saunders is a performance midi sequencer which approaches music composition with an interactive creation processes — sometimes referred to as 'noodling'. Sequences can have any length up to 64 steps and loop actions allow you to randomize, start or load another sequence, etc. when the loop ends.
StepBud by Cem Olcay supports an unlimited number of steps. Each step has settings for velocity, rate, gate time, modulation, pitch bend, portamento, probability, swing, and step skipping
🗒 Create your own MIDI plugins
And in another category is Mozaic from Bram Bos, a world of exploration awaits here, create your own midi plugins or download them from the community.
Create your own MIDI plugins: MIDI filters, generative music tools, basic sequencers, MIDI control panels, chaos experiments… Let your imagination take you places.
If you have suggestions or topics you want covered please contact me. 🙂