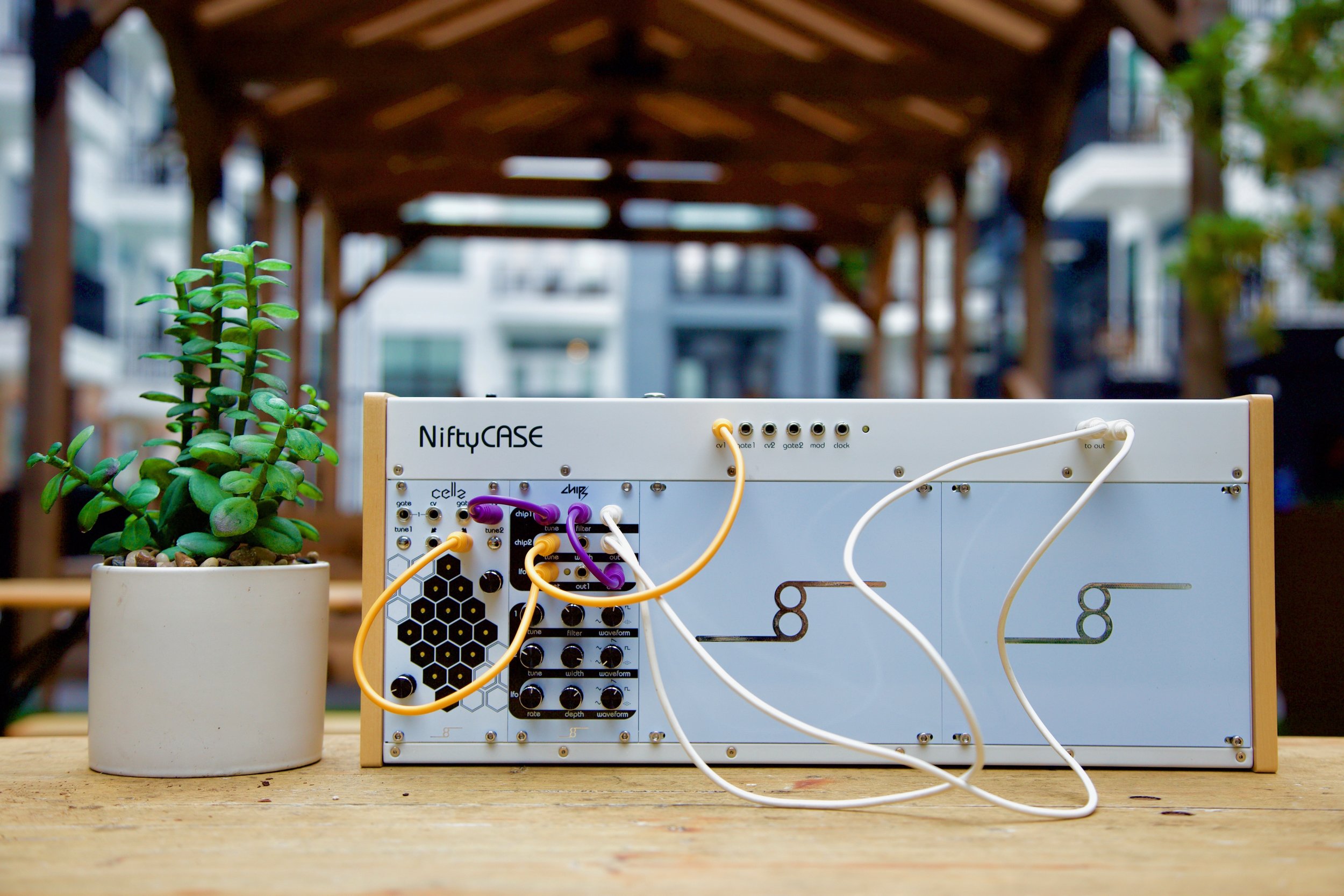 A conversation with Al Joelson from Cre8audio
After seeing the NiftyBUNDLE modular case and modules at the NAMM show this year, I was impressed with the build quality of the whole unit and the functionality for the price. I got in touch with Al Joelson of Cre8audio to find out more about the company and its products.
The NiftyCASE is a powered, 84HP wide modular case with built-in MIDI to CV, at a very reasonable price. The case is made of metal with wood end caps, so it feels like a nice instrument.
The NiftyBUNDLE includes the NiftyCASE, a Cellz module, a Chipz module and patch cables.
What inspired NiftyCASE?
A couple of years ago modular started to become popular again. As a tinkerer and person who has always been into music gear, I kept asking my friends why they weren't going crazy over modular. There were a lot of people talking about it, but the actual number of people I knew that owned a modular system was much less.
I asked around and one of the biggest objections was the expense. The other objection was figuring out how it would work in your music-making environment, after spending a lot of money. For me, that was a big stickler. Why spend $1k-$2k and then figure out how to make it work in your music studio.
That's the reason we started with the NiftyCASE. In my mind, there were 3 main objections to modular. 1. It is complicated to get started and figure out what cases and modules you need to buy. 2. Modular is expensive 3. How do I fit a modular system into my studio?
We wanted something affordable that you could make work in your studio.
How did you arrive at the feature set?
We wanted something affordable that you could make work in your studio. I was looking for something that would have the perfect balance of flexibility. A good place to start with modular and then build out your playground. Yet not so big that you see a lot of empty space, that is not inspiring.
For me, MIDI was an important thing. From my iConnectivity background I knew MIDI works everywhere, everyone's got it, and it has been around a while. We need to have MIDI.
The cases are modular too?
We have wooden ears coming out so multiple units can be attached together and grow with you. The cases themselves are modular. The ears will be very affordable.
How did you manage to achieve such a good price point?
The secret is understanding manufacturing and how to design for manufacture. The trick is deeply understanding how it works and where the costs are in your design.
There's a spectrum people have to manage when building a product. How do you develop a product that is going to be commercially viable, at a price your target customer can afford, and still make it everything you want it to be? That's the hard part. Lots of decisions go into trying to strike a happy balance.
The NiftyBUNDLE
We consider the NiftyBundle as the main product. At under $300, we want it to be a good place to jump into modular. You can make some noise, do some fun things with it and still have a lot of room to grow. The case was the important ingredient in our eyes, we also wanted the modules to be fun.
The Modules
Our product manager Alex, has a company called Twisted Electrons, a boutique maker of cool modules and 8-bit sounding products among other things. Alex had created the Cellz module and was building each one by hand. He was thinking of mass producing products for the first time, then we met and decided to release Cellz under Cre8audio.
The Cellz Module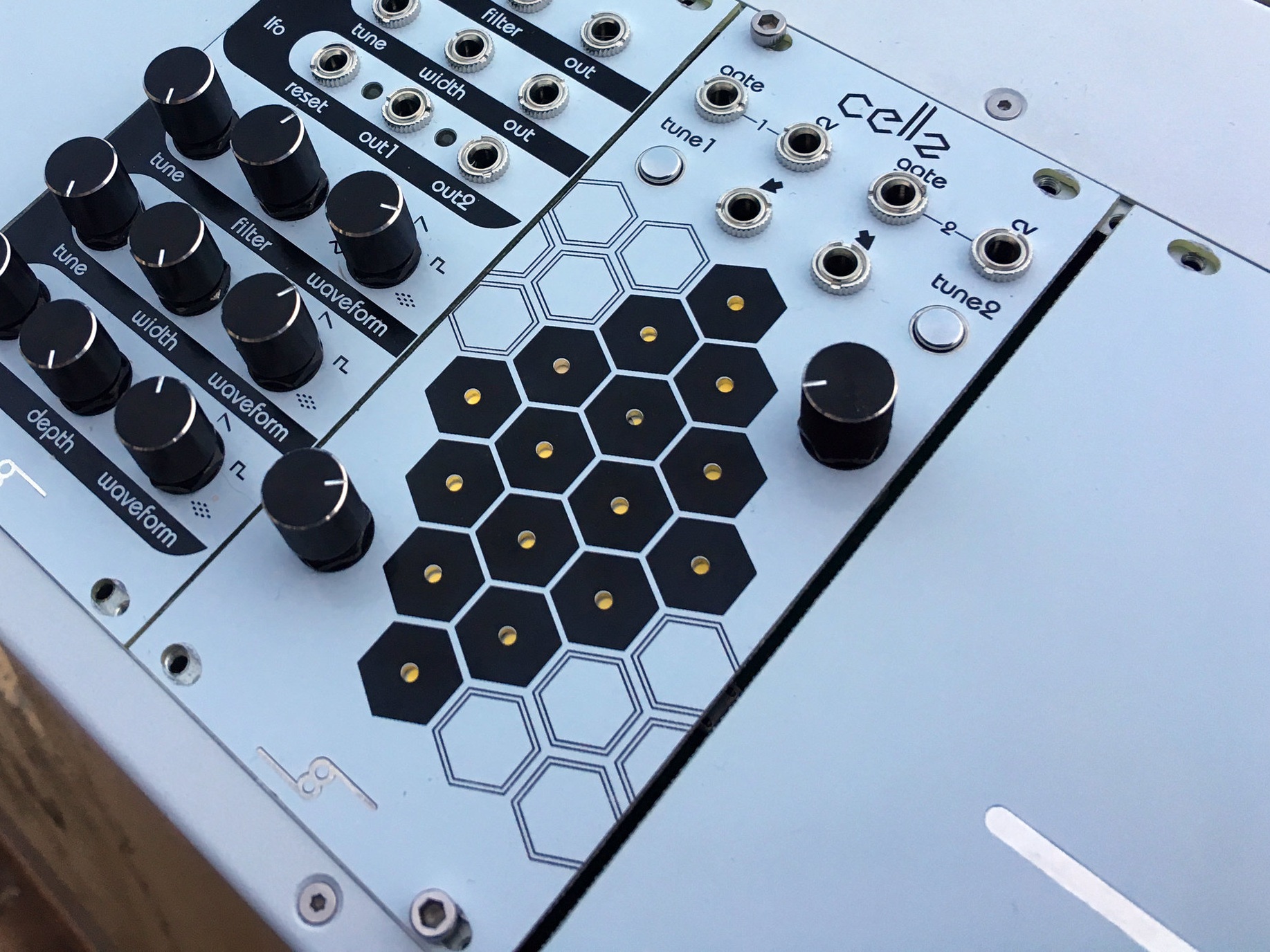 Cre8audio Cellz Module
With NiftyBUNDLE we set out to make an instrument that appeals to several groups; one is people who usually work in DAWS and want to get into modular; the other is modular synth enthusiasts. Our goal was to provide 2 modules that give you a lot of functionality. The Cellz module was primarily made to speak to the dawless musician. It can be used as a controller or a sequencer. It's great for just playing whatever you have patched up or creating sequences that modulate pitch or other parameters.
Cellz has 16 honeycomb touch cells, each one can be tuned to a quantized or freeform CV value. You can touch each pad and play it, so you can play the unit without any external MIDI source. Or you can also sequence the pads from 2 external trigger inputs. Check out the video to see how this works. When touching multiple cells, you can arpeggiate the notes while controlling speed and range with the knobs.
The Chipz Module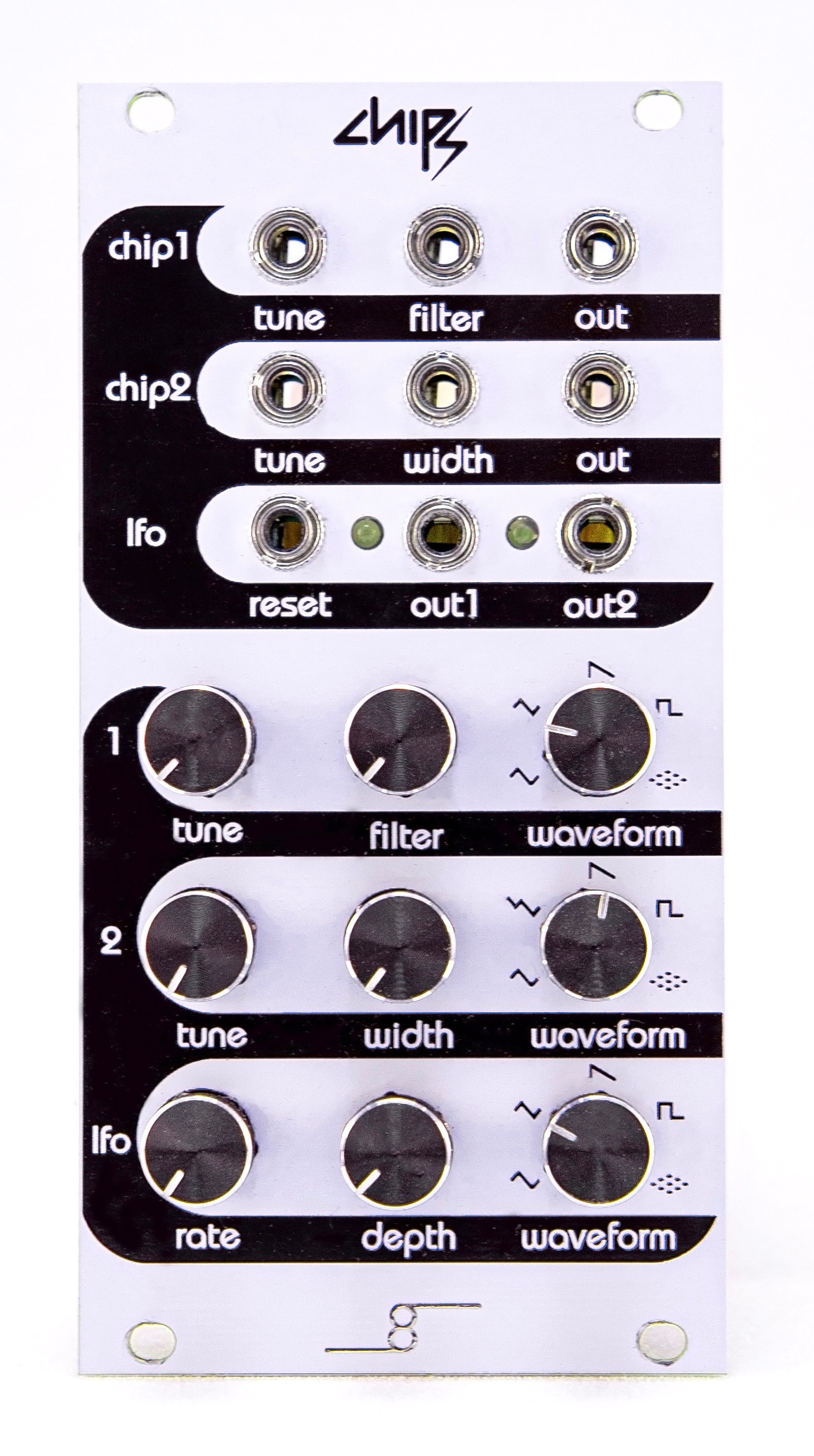 Cre8audio Chipz Module
Chipz gives you 2 oscillators and 2 LFOs. You can create a range of sounds with this module, we wanted something that sounded different. It started with the chiptune idea that Alex is known for and that evolved into Chipz.
One LFO runs at 4 times the speed of the other LFO. This way, if you run both LFOs into the trigger inputs on Cellz you can cycle through all 16 cells.
Creating Products
Any advice for making your first product?
Don't make it overly complicated, there are so many things that can go wrong. Keep it simple. Do something you are passionate about and absolutely love. How do you expect someone else to love what you made if you don't?
You want to make something that is appealing to a customer, affordable, and checks the boxes of what made you passionate about wanting to build it in the first place.
We're doing this Cre8audio stuff because we love it.
What is Cre8audio about?
Cre8audio was started 2.5 years ago as a platform for me and my friends to create instruments that reflect our more playful side. We're doing this because we love it. We like to make fun music stuff. That's where our heads are at. We do believe in accessibility and making cool things everyone can get their hands on.
Links
If you have suggestions or topics you want covered please contact me. 🙂